Heat Safety: All You Need To Know
July 11, 2023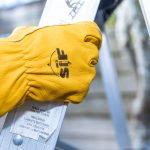 October Is Careers In Construction Month
October 24, 2023
For 40+ years, we've helped members stay safe and productive by offering essential resources for increased safety awareness. Some of these resources include a 10-point safety plan, on-site visits, loss control plans, toolbox talks, and more. 
10-Point Safety Plan
Members can access our safety resources tab on our homepage to find a sample safety plan. This plan highlights the key factors involved in creating and maintaining an Operational Safety Management Plan. 
Our plan includes a Management Policy Statement, Assignment of Responsibilities, Inspections, Accident Investigation, Safety Meetings and Rules, Training, Record Keeping, First Aid and an Emergency Preparedness Plan.    
On-Site Visits and Reviews
We visit our members' sites to check safety methods and give suggestions to improve safety awareness in their organization. This is especially beneficial to larger sites that need an additional set of eyes.
Sample Loss Control Plans
Our team provides sample loss control plans to help our members implement ideal practices. Our aim is to assist our members in creating their own Loss Control Plan by offering support and guidance.
This plan assists our members in understanding when and where to apply advanced guidelines. It also aids them in managing risks by directing their attention to areas that require improvement or attention within their organization. 
Dividend Rewards For Safe Sites
Once a year, we reward our members with a dividend payout. The safer our members are throughout the year, the more they receive. This is just another way we show our commitment and dedication to enforcing safe practices in and around worksites. 
To this day, we have surpassed $100 million in total dividend payments to all of our members. This is just one advantage you get for creating and maintaining a safety-first worksite.
Toolbox Talks
Our Toolbox Talks are a popular resource among our members. These presentations help members learn useful information conveniently from their home or office. 
We have topics relating to aerial lifts, correct lifting, confined space entry, driving resources, electrical extension cords, the elements of a safe culture, eye care, fall preparedness, housekeeping practices, hand and power tools, hazard communication, ladder practices and more!
These presentations offer vital information that is useful for a number of potential hazards and concerns on construction sites. They are a great way to learn more about proper guidelines for specific workplace incidents or areas of increased concern. 
Safety is the foundation of everything we do at the Self-Insurers Fund. We prioritize the well-being of our members, contractors and sub-contractors in the region. We also prioritize the well-being of everyone in the homebuilding industry. 
For more resources from SIF, visit our Safety Page to download any and all available resources. If you have any inquiries, please don't hesitate to contact us so we can best assist you.